Luxembourg 2005
Story by DaniŽl Wilten
Saturday May 14th
Officially the first day of the meeting, but the club-area on the camping was also open for early birds since Friday. During the day more and more Volvo 480 arrived. Over 35 Volvo 480 from various European countries attended the meeting, making it a big success! The only problem was that it was raining quite bad and that the club-area on the camping didn't need much time and car-tires to turn into a dirty puddle. But once you had the tent standing up and secured a spot under one of the partytents everything was fine. And those who stayed in a hotel were, probably, even happier. The day ended with a campfire near the partytents.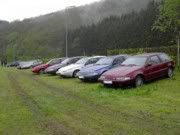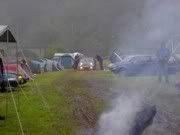 Sunday May 15th
The Sunday was the main day from this meeting, the weather was excellent: nice and warm with the sun shining! In the morning everyone received a tour-description for a route that lead through the beautiful scenery of Luxembourg, past several chateaux and castles.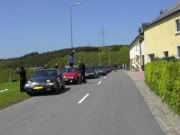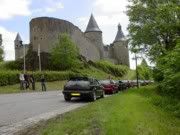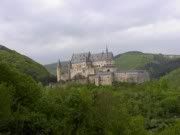 In Larochette we stopped to visit the castle. Here everybody could be amazed by the size of a castle and enjoy a refreshment on the terrace. The castle stands 150 meters above the rest of the valley and construction began in 1385. In the 16th century the castle burned down and became the ruin it is today.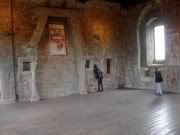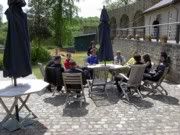 After the visit we parked the Volvo 480 on a grass slope for a nice grouppicture. It remains a beautiful sight, so many 480 put together...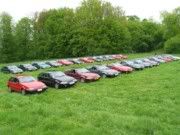 The last stretch of the tour lead back to the camping where the BBQ was being prepared for a nice dinner. The food tasted excellent and as time passed the sun was slowly setting behind the horizon. After the BBQ another campfire was made so we could all stay warm as the evening passed by and things got colder.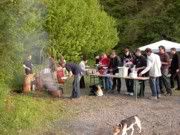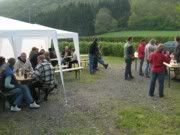 Monday May 16th
Today was Pentecost-monday, so people still had a day off from work and were able to use this day to get up slowly, pack their tents, say goodbye to everyone and drive home at their own pace. We hope everyone has had a wonderful weekend, the meeting was a big succes! Thank you all for showing up, we hope to see you again next year!