Meeting Noord 2005
Story by DaniŽl Wilten
July 9th Ingrid and Ed organised a meeting in the North of The Netherlands through the provinces Drenthe and Groningen. Starting location was a Van Der Valk Motel along the A28 motorway in Assen. Here everyone gathered during the morning and started the meeting enjoying coffee or other refreshments. A total of 23 Volvo 480 showed up for this meeting.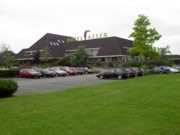 Around 11 AM we departed from the parking area to tour through the flat dutch countryside. There was a bit of drizzle, but it takes more than a few drops to spoil the mood when 480-owners get together! The tour lead through forests, old villages and past lots of agricultural fields in the flat dutch countryside. After a while we arrived in Bourtange, this used to be an important stronghold for defending the Northern region of The Netherlands for houndreds of years. The surrounding area used to be swamps and unpenetrable forest, so coming from Germany and travelling to places in the North meant you had to pas this stronghold. Of course the stronghold became useless for defense a long time ago when the swamps became agricultural fields and people learned to fly. It was nice to notice that the weather was clearing up by now! Background information about the stronghold can be found at http://www.bourtange.nl/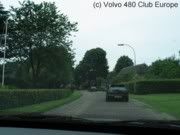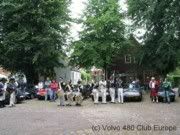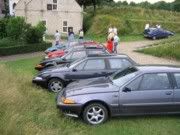 After spending lots of time looking around and having lunch on the terrace on the central square we set out for the second stretch of the tour. It ended at 'Landgoed Ekesteyn' in Appingedam, a nice dining location. There was a choice between salmon or steak. It tasted deliciously! The dining room was also very special, a nice wallpainting covered all the walls surrounding us. Afterwards everyone went outside to have a cup of coffee or tea in the sun. The meeting was a success thanks to the efforts from Ingrid and Ed!