Moderators: jifflemon, coyote1980, Rachel
480 Is my middle name
Posts: 1811
Joined: Mon Jul 07, 2003 3:19 pm
Location: Cambridge
Last edited by
jamescarruthers
on Mon Jul 27, 2020 8:39 am, edited 1 time in total.
1987 Volvo 480 ES, 507274, 217 - Red (Ness)
2001 Volvo C70 2.4T convertible (Olivolvo)
2003 Renault Avantime 3.0 V6 (Big Ren)
2008 Mini Cooper convertible (Mau)

Previous 480's:
J123 CFU -- ES
J449 MNL -- ES auto
D864 CPV -- ES
L691 JFC -- Turbo
F70 MNR -- ES
H858 FGV -- Turbo auto
E981 KHM -- ES (509849)
---
Rear lights look pretty decent as well, and the arches
I remember when I was playing Forza Horizon 2 I decided to make realistic number plates for my cars, and when I made an H-reg for a Vauxhall Lotus Carlton I looked it up and found it was originally on a 1721cc Volvo, could it have been a 480?
I'm on holiday at the moment so can't bring the number up but is was H*** CDL, and I came up with it at random
Current Jobs to do (30/12/19):
New Tires
Fix Radio/Cassette
Fix Central Locking
Bodywork
---
480 Is my middle name
Posts: 1811
Joined: Mon Jul 07, 2003 3:19 pm
Location: Cambridge
Smack The Pony was filmed around 2000 so car would have only been about 10 years old.
Tax due 2003 so it didn't last much longer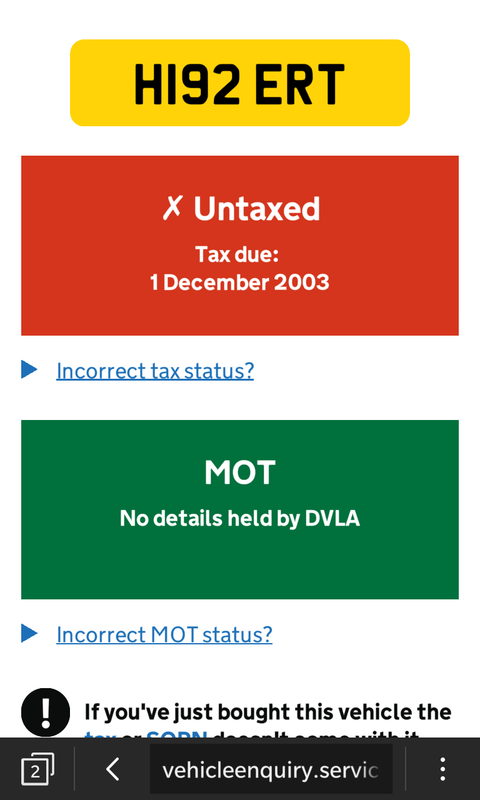 pics hosting
1987 Volvo 480 ES, 507274, 217 - Red (Ness)
2001 Volvo C70 2.4T convertible (Olivolvo)
2003 Renault Avantime 3.0 V6 (Big Ren)
2008 Mini Cooper convertible (Mau)

Previous 480's:
J123 CFU -- ES
J449 MNL -- ES auto
D864 CPV -- ES
L691 JFC -- Turbo
F70 MNR -- ES
H858 FGV -- Turbo auto
E981 KHM -- ES (509849)
---
Shame, looked like a Turbo as well, in a nice colour...

Of course it could be 'mothballed' in a garage or barn....



...or bush
Current Jobs to do (30/12/19):
New Tires
Fix Radio/Cassette
Fix Central Locking
Bodywork
---