As mentioned a few months back, I rescued a 480 Celebration from the perils of eBay; or, to put it more accurately, Hutton Brothers (my local excellent Volvo independent) knew they only had to let me see it when I took Lily my GT in for her MOT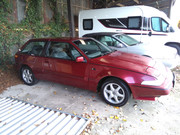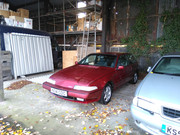 Nora, as she is known, is a bit of a mystery in that she is definitely a Celebration - the spec is exactly right and I have the original sale invoice, which, like the V5, states she is a Celebration. But there is no plaque on the dashboard and no trace of one ever having been there. I know they were fitted by the dealers on purchase so I imagine her original owner didn't want it put on the car...I need to try and track him down (perhaps he still has it?) and/or see if Mill Garage in Stockton still have any records (long shot but can't hurt to try!).
I thought it was time now to start a thread for her since today she secured her MOT. Slight problems getting it due to an oil leak (camshaft seal at distributor still leaking despite my changing it, seems a genuine Volvo one (yes, Huttons still had one!) has done the trick) and an inability to get the car warmed up for the emissions check (I know the thermostat needs replacing as its opening too early but not done it yet; they took the car for a spin to get her up to temperature, no problems then). Otherwise, no problems, no advisories, just a nice clean ticket for a year now.
I have been busy meanwhile - Nora has been benefitting from some of my precious spares, such as a pretty decent pair of front light (DRL/indicator) units (hers were looking pretty ugly), a dashboard surround with minimal cracking (hers had a big lump missing), glove box lid (hers had a hinge strap missing, and auxiliary gauges (of which, at the moment, of course only the voltmeter works). I found her a roller blind cover (hers was missing) and some rigid mats (she had none) and she may be the beneficiary of a cupholder armrest and a genuine tow-bar (if that doesn't end up on Lily...). I have also found a Phillips radio/cd for her - not exactly the right model but of the same era and very similar.
Otherwise, lots of cleaning, as well as a full service (oil, filters, plus, HT leads, distributor cap and rotor arm) has been going on.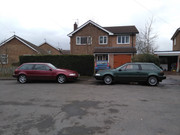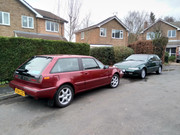 She seems to be in pretty good nick. I will give some attention to the rear arches and door bottoms - I think both will be ok for now with some cosmetic attention; the wheel arches on Lily are my priority and I can't afford to get 2 cars done at the same time!
The future plans? When I have finished doing what I can to her and got her into a decent shape, I will probably be selling her on. I doubt I'll be allowed to keep her! But I might get her to a couple of our mini-meets before then, who knows?
I will post further updates in due course; meanwhile, I have tried to get some photos up with this thread - hmmm...how do I get them bigger?
David